Explore Casa Mila
A Brief History Of Casa Mila The construction of this architectural masterpiece began in 1906 and was initially commissioned by Pere Mila and his wife, Roser Regimon. Antoni Gaudi, hired by the couple, designed the unconventional building with an aim to "meet the needs of the modern life", however it faced a host of criticism because of certain issues that it faced during its construction. It wasn't until 1912 that Casa Mila was finally completed, however, the relationship between the wealthy industrialists and Gaudi was often mocked upon by the public.
'La Pedrera', that translates to 'Stone Quarry' was constructed using elements of geometry and nature. Gaudi imagined the structure to be 'ever-changing' and added 'curves' to its facade as a result. Consisting of nine levels, a unique feature of the Casa Mila is that it includes asymmetry as a major part of its architecture, this was more since Gaudi was known to be against straight lines.
Why Visit Casa Mila?
Apart from being known as a Historical and Artistic Monument of National Interest, Casa Mila has been declared a World Heritage Site by UNESCO.
Casa Mila is the only structure in Europe that has small ventilation courtyards as well as two large courtyards. These were incorporated by Gaudi in order to improve the ventilation inside the building.
The attic, that has now been converted into a museum, holds Espai Gaudi, an interpretation center that specializes in Gaudi's work around Barcelona.
You can enjoy a panoramic view of Barcelona from the rooftop of Casa Mila.
Casa Mila is home to a number of jazz concerts and was also one of Gaudi's first buildings to hold various nighttime activities on its rooftop.
Casa Mila's striking wrought iron balconies were made using recycled iron, a unique feature for that time. One of them is also on display at the NYC's Museum of Modern Art.
Inside Casa Mila Antoni Gaudi's artistic and unconventional vision gave birth to Casa Mila. The house, which is 9 stories tall, is equipped with a natural ventilation system. It consists of two large inner courtyards, a basement, an attic as well as a rooftop. Here are a couple of important rooms you should visit during your tour:
The Rooftop
The wavy floors give way to what is considered as one the most picturesque rooftops in Barcelona. Catch stunning, panoramic views of Barcelona, an experience unlike any other.
Espai Gaudi (Attic)
Home to the Espai Gaudi museum, the attic comprises of 270 parabolic arches that give one a feeling of walking through a maze. Today, it is divided into seven sections dedicated to the master architect Antoni Gaudi.
The Pedrera Apartments
The famous apartments that were home to the Milas remain untouched even today. Visitors can get a glimpse of their opulent lives that continue to remain as it is centuries on.
The Courtyard
The two individual apartments that intersect at the courtyard is one of the most prominent parts of the structure. Be prepared to marvel at the delicate floral motifs and murals that adorn its interior.
Entrance Hall
Painted by Symbolist painter Aleix Clapes, the entrance halls are adorned with mythological tapestries. Some of which depict the love of Vertumnus, the god of seasons, and Pomona, the goddess of fruit trees and gardens.
The Origins Night Show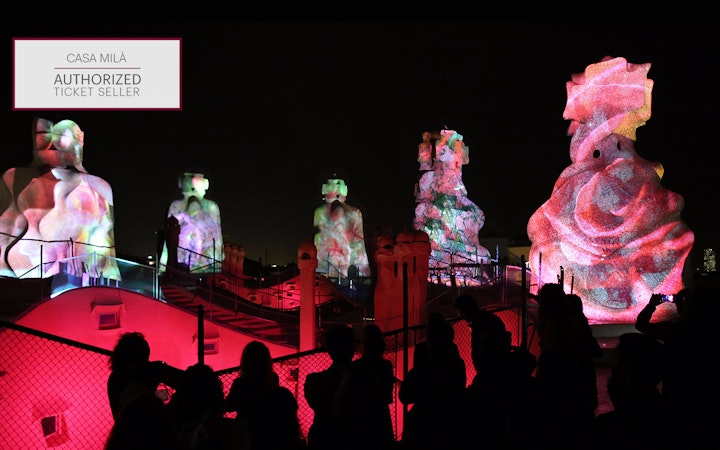 What Is The Origins Night Show?
The Origin Night Show gives you special admission to Casa Mila and allows you a nocturnal view of the house with a small group. The tour highlights the essence of Gaudi's work with the company of a guide. Apart from live commentary, the tour will also brief you about Casa Mila's historical significance and timeline with its gripping audio-visual presentations. This unique tour takes you through the important parts of the house after sundown, when the iconic building comes to life with bright illumination. The medley of lights, colours and sound is nothing short of mystical.
Your Origins Night Show Experience
Walk through the architectural masterpiece on a nocturnal show, with a VIP glimpse into the house long after the day has ended. Meet your guide at the entrance and head right in to explore your way through the remarkable La Pedrera in a small, close-knit group of fifteen people only. The tour takes you through the important sections of the house — including the entrance halls, courtyard, the roof-terrace as well as the attic museum — to give you an all-inclusive experience that highlights Gaudi's notable elements. Learn more about Casa Mila's architecture timeline and the inspiration behind Gaudi's other works during this tour. With the help of your guide, you will be led through a stunning audio-visual show that is held on the rooftop of the house. The tour concludes with a spread of refreshments, a glass of cava and chocolate snacks amongst others.
Why Should One Go For The Origins Night Show?
— Priority access: The tour allows you to skip the line and grants your priority access long after the day has ended. Enter without having to stand in exhausting queues. 

— VIP visit: The tour allows you to enter Casa Mila much later after it closes down, allowing you to witness Gaudi's masterpiece from up close. 

— Audiovisual display: The wonders of Casa Mila are best explained over an interactive audio-visual presentation screened on its roof-top. 

— Tour guide: Avail the facility of having a skilled tour guide along, who will brief you with quirky, local facts about Casa Mila on your way. 

— Refreshing snacks and cava: End your late night tour with a glass of refreshing cava, chocolate snacks, and other eatables to make your visit a memorable one.
Origins Night Show Timings
From 18th May to November 2:
Sessions every 20 minutes from 9:00 PM to 11:00 PM.
Sessions every 20 minutes from 9:00 PM to 11:00 PM.
Sessions every 20 minutes from 7:00 PM to 8:40 PM.
The Casa Mila Awakening Tour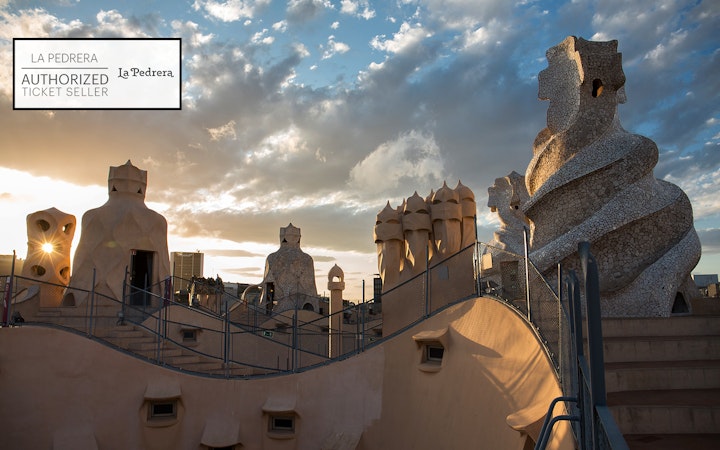 The Casa Mila Awakening Tour is a unique experience that allows visitors to enter the house before its opening hours. It gives them a chance to witness the early hours of Barcelona from Casa Mila, and what it goes through as its routine before getting ready to welcome thousands of new visitors every day. Join a guided tour group that takes you through the different areas of the house. Apart from the usual chambers, the tour will also take you through some VIP sections that are otherwise restricted to the general public. Know what inspired Antoni Gaudi to create the glorious architectural marvel that Casa Mila is considered today.
Your Casa Mila Awakening Tour Experience
Be the first one to enter Casa Mila, and get a glimpse of its magnificent glory before anyone else could. Before welcoming the thousands that visit it every day, Casa Mila goes through a preparation routine every morning. In a small group of ten to fifteen people, join the Awakening tour that will take you through the important chambers of the house as the first ray of sunlight hits its glorious exterior. Apart from visiting a few VIP areas not mentioned on a normal tour, visitors have a chance to walk through the roof terrace, the attic, The La Pedrera Apartment as well as Courtyards as well. Discover the ideas behind La Pedrera, which is considered as a 'creation of nature', and know the secret behind Antoni Gaudi's inspiration. Wind up in peace before the crowd swarms in, and enjoy a cup of coffee at the Cafe de la Pedrera after the tour.
Why Should One Go For The Casa Mila Awakening Tour?
— Priority access: The Casa Mila Awakening tour allows you to skip the exhausting queues, and lets you in without having to wait for long.

— VIP visit: The Awakening Tour allows guests to enter much before the opening hours, thereby allowing them to get a peek into the early morning routine of the Casa Mila.

— Tour Guide: With an option of having a knowledgeable tour guide along, the Awakening Tour will also help in learning more about the architectural timeline of Casa Mila.

— Refreshments: End the tour with an invigorating cup of hot coffee at Cafe de la Pedrera, which will keep you energized throughout the day.
Casa Mila Awakening Tour Timings
Wednesdays, Thursdays, Fridays, and Saturdays:
8:00 AM onwards.
Visitors Tips & Hacks
Buy your Casa Mila tickets online to avoid long queues and waiting hours.
Make sure you visit between 9:00 AM to 10:00 AM in the morning or at 4:30 PM in the evening to make the most of your visit.
Be equipped with comfortable clothes and shoes, as Casa Mila involves a lot of walking as well as climbing of stairs within its premises.
Make sure you visit during the day as well as night for a completely different experience.
Students, as well as children who have their student identification cards, can avail certain discounts on entering.
Carry a camera for a panoramic photo opportunity of the city from the rooftop.
Start your tour from the roof during peak hours, so as to avoid the crowd at every floor.
Keep at least a couple of hours at hand to make the most of your trip to Casa Mila.
It is forbidden to carry camera accessories — such as a tripod within the museum.